When it comes to designing your living room, selecting the right flooring is crucial to creating a visually appealing and functional space. Tiles have emerged as a popular choice for living room floors due to their durability, versatility, and ability to add a touch of elegance. Whether you prefer a classic, contemporary, or eclectic look, there is a wide range of living room tile designs to suit every style. In this article, we will explore various tile options, patterns, and color schemes to inspire you in transforming your living room into a captivating and inviting haven.
1. Timeless Elegance with Marble Tiles
Marble tiles exude luxury and sophistication, making them an excellent choice for a refined living room. Their natural veining and subtle color variations add depth and character to the space. Opt for large format marble tiles for a seamless look or create a statement with a marble mosaic accent wall.
2. Rustic Charm with Wood-look Tiles
Bring the warmth and natural appeal of wood into your living room with wood-look tiles. These tiles mimic the appearance of hardwood but offer enhanced durability and resistance to moisture and wear. Choose from a range of wood-look tile options, such as oak, maple, or walnut, to create a cozy and inviting atmosphere.
3. Contemporary Flair with Porcelain Tiles
Porcelain tiles are known for their durability, versatility, and wide range of design options. Create a contemporary living room by selecting large-format porcelain tiles in neutral tones like gray or beige. Pair them with sleek furniture and minimalist décor for a clean and stylish aesthetic.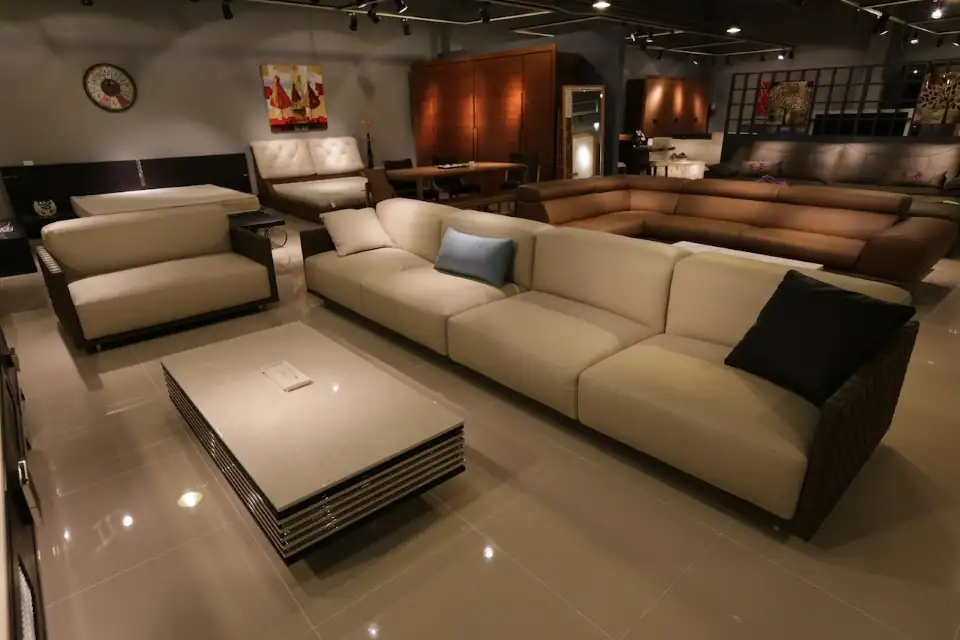 4. Chic and Sophisticated with Patterned Tiles
Patterned tiles can add a bold and captivating focal point to your living room. Consider geometric designs, intricate motifs, or encaustic tiles to infuse a dose of personality and visual interest. Use them to create an accent wall, a stunning fireplace surround, or as an artistic rug-like element in the center of the room.
5. Classic Beauty with Ceramic Tiles
Ceramic tiles offer timeless beauty and a wide range of design possibilities. From glazed tiles with glossy finishes to textured ceramic tiles with a handmade appearance, you can achieve various looks in your living room. Explore different color palettes and patterns, such as herringbone or chevron, to create a classic and elegant space.
6. Contemporary Glamour with Metallic Tiles
Metallic tiles can add a touch of glamour and sophistication to your living room. Choose from options like stainless steel, copper, or brass tiles to create a stunning accent wall or a striking fireplace surround. Metallic tiles reflect light, adding a sense of luxury and creating an inviting ambiance.
7. Modern Simplicity with Large Format Tiles
Large-format tiles have gained popularity in modern living room designs due to their sleek and seamless appearance. These oversized tiles create an illusion of spaciousness and make a statement with their clean lines. Opt for monochromatic or neutral tones to achieve a contemporary and minimalist look.
8. Artistic Expression with Mosaic Tiles
Mosaic tiles allow you to unleash your creativity and add a unique artistic touch to your living room. Choose from an array of colors, materials, and shapes to create intricate patterns, murals, or focal points on feature walls. Mosaic tiles can be customized to reflect your personal style and make your living room truly one-of-a-kind.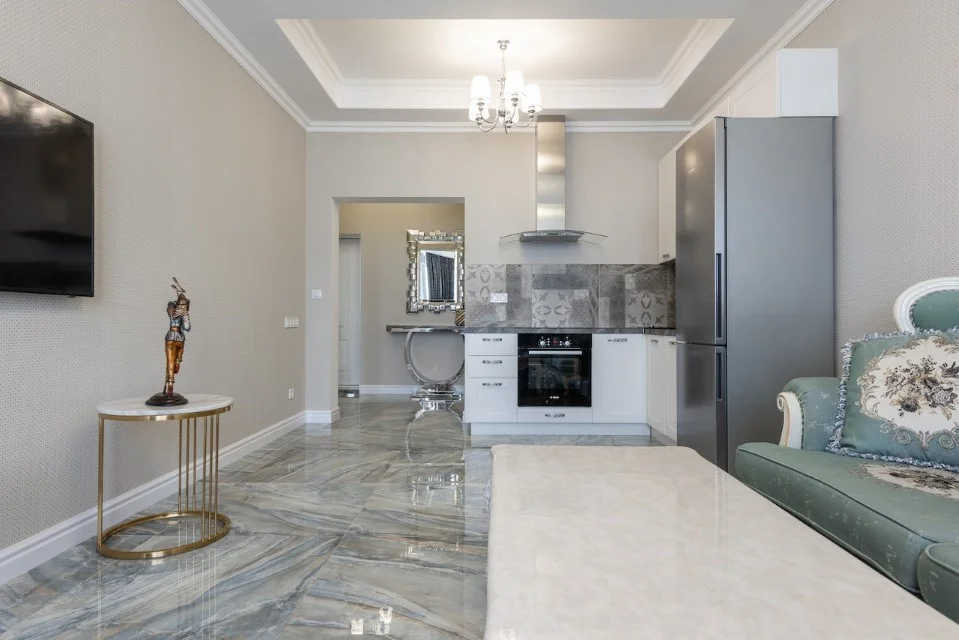 Popular FAQs
Are tiles a suitable flooring option for living rooms?
Yes, tiles are an excellent choice for living room floors. They are durable, easy to clean, and resistant to stains, making them ideal for high-traffic areas. Additionally, tiles come in various styles, colors, and patterns, allowing you to create a customized look that suits your design preferences.
How do I choose the right tile design for my living room?
Consider the overall style and theme of your living room.
Take into account the size of the room and the amount of natural light.
Explore different tile options, patterns, and colors that complement your existing furniture and décor.
Seek inspiration from interior design magazines, online resources, and professional advice.
Can I use different tile designs within the same living room?
Yes, incorporating different tile designs within the same living room can add visual interest and create distinct zones or areas. For example, you can use patterned tiles in the seating area and opt for wood-look tiles in the dining area for a seamless transition.
Conclusion
Choosing the right tile design for your living room can elevate its aesthetic appeal and create a lasting impression. Whether you prefer a classic, contemporary, or eclectic look, the wide range of tile options available allows you to unleash your creativity and transform your living room into a stylish and inviting space. By considering different tile materials, patterns, colors, and textures, you can create a flooring design that reflects your personal style and enhances your living experience.